In Memory
Theresa "Cookie" Lucas VIEW PROFILE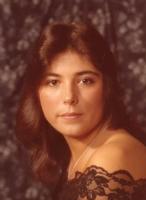 Theresa "Cookie" Lucas
January 26, 1963 - August 16, 2018
Theresa Earlene (Cookie) Lucas, age 55, of Odessa, TX, passed away on August 16, 2018 in Odessa.

A private visitation was held on August 21, 2018. The family would like to express our appreciation for all the phone calls and prayers.

A Memorial Service to celebrate Cookie's life will be held for family and friends September 8, 2018 at 2:00 PM at Sunset Memorial Funeral Home Chapel.

Cookie was born January 26, 1963 to Earl Hugh Lucas and Theresa K. Lucas in Bridgeport, Connecticut. She was a graduate of Permian High School. She worked as an office manager/accountant for JOHNCO Sales, Inc. for over 30 years. Cookie was involved in several animal welfare rescue charities and her love for animals was a passion throughout her life. Her horses and dogs, Bingo, Goldie, and Chubbs were very special to her. Cookie was a loving and caring person. She always considered others before herself. Her mother, Teri was the light of her life.

Cookie is preceded in death by her father, Earl Hugh Lucas.

She is survived by her mother, Theresa (Teri) Lucas of Odessa; brothers, John Slovensky of Odessa, Louis Slovensky of Richmond, TX; nieces, Amber Slovensky and Carly Slovensky of Richmond, TX.
Click here to see Theresa "Cookie"'s last Profile entry.